Subdermal
by Melpomene Whitehead
photos by Pruiga Phur (except where noted)
I wouldn't have believed me if, twenty years ago, a future version of myself appeared to the high school me in some drug-addled dream, saying "in 2002 it'll be YOU who's drunk and on the dole." No way. I went to college, I work OT, I don't fuck up. Yet, it happened. Well, I'm not drunk all the time. And my dole money is about to run out. So I find myself doing the things I did when I was a poor punk rock girl—eating peppers and eggs and peanut butter and jelly sandwiches, and drinking the cheapest beer I can find that doesn't make me ill. So I figured this was as good a time as any to read Steven Blush's (publisher of the zine, Seconds, editor of Paper, and Rock Candy promoter) new book American Hardcore: A Tribal History.  Interviews with over fifty people, all the major players in hardcore like Lee Ving, Dez Cadena, Jello Biafra, Mike Watt, Henry Rollins, zine publishers, crazy kids—it makes a compelling read. Fast-paced and full of photos of mosh pits, pile-ups, bloodied noses and torn posters—it's as ugly and energetic as hardcore was in the early 80s. American Hardcore is an exciting, cathartic read, an encompassing overview of not just music, but art, politics, sociology, and sports like skateboarding. Blush has the book organized by topic (like World Full of Hate, Tex-Ass, DIY) with quotes from the various people interviewed, so that each chapter reads like an album with 14 short songs—quick, punchy, and vibrant. I was decidedly not a hardcore girl back in the day, so American Hardcore serves as a reminder of what I missed, provided me with recollections of the reasons why I didn't want to be part of it (like racism and sexism), and still manages to give hardcore its proper place in music history. Blush, who was a part of the NYC and DC HC scenes, researched and interviewed people for five years. This book has everything—sex, drama, death, and a very comprehensive discography. If you're looking for the perfect xmas gift, this for sure is it. Everyone will enjoy it, except maybe your mom, depending on who she is. Like, if I were your mom, I'd love it.
Speaking of me being your mom, this came up recently at the Ghent Magazine party/fundraiser in late September. I was speaking with the delightfully manic Poisson d'Avril, who had performed with M. David Hornbuckle (kittenfarm.com) earlier that evening in a performance that resulted in both gentlemen doffing their pants, and Steve, the Ghent publisher, removing his belt and spanking the delectable Hornbuckle. Beat-master Poisson had mentioned his age in passing, shocking several peeps with his youthfulness. "I could be his mom!," I said to the group. "I wish you were my mom," sighed the April fish-boy. "No, you don't, I'd steal all your CDs." But then I started to think, what if I was Poisson's mom? I would have been taking him to shows when he was 13. Maybe we would have started a band together. And maybe my father would have sued for custody. Anyway, Ghent #4 is out and available for free at many fine establishments, including Sidewalk Café. Ghent is an epistolary 'zine, a magazine of letters, if you will. I mean it's all letters. As in correspondence. It's hysterically funny and interesting and you're invited to participate by sending in your own letters, or letters you've found. See the online version at ghentmag.com
<![if !supportEmptyParas]> <![endif]>
Other performers at the Ghent party included the weird, lonely a cappella of Ethan Lipton, ranter Neal Medlin (who that evening ranted about butt sex and jesus and jesus's penis – wow. Jesus's Penis. I think I'll name a band that), and Butcher Slim, a sort of Hank Williams/Liquid Tapedeck hybrid. No way does that sentence make any sense to most people.
<![if !supportEmptyParas]> <![endif]>
These new kids showed up recently on the open mike scene at Surf, a yummy quartet of ultra-cute boys called Dweller. As it turns out, they're not new at all, just new to me. John Andriani, Rick Amado, Mike Milazzo and Martin Stroh have been together in one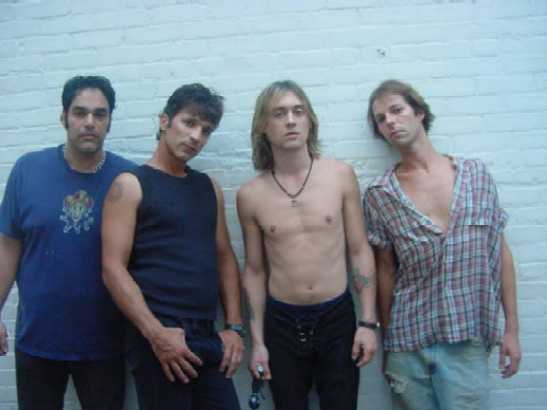 form or another since 1987. They do engaging and funny pop/rock songs, and are phenomenally earnest. Think a punk-rock 1910 Fruit Gum Company, or if Joey Ramone and Kurdt Kobain had a band together. Check out www.dwelleronline.com, where you can hear their music, and revel in their delicious-ness. They'll be playing shows every Monday night at Space, 602 E 16 st, 2nd floor. It's an all-ages show, so you moms can bring yer kids, but you can't buy them beer, ok? (Dweller photo by Mistress Kat)
<![if !supportEmptyParas]> <![endif]>
And speaking of kids, all-ages shows, adorable-ness, and the Sidewalk Café, I had the pleasure of seeing The Trachtenburg Family Slideshow Players at Sidewalk on a Friday in September, right after school started for some. I mention this because Sidewalk was filled with kids—friends of the band's young drummer, eight-year-old Rachel Trachtenburg. This is a high-concept band—the family goes around to estate and yard sales and guy up people's old slide collections, and then write songs around the slides, which are shown while they play. You know how cute the Snuggle Bear is? Have you seen the Snuggle Porcupine? He's much cuter than the damn bear. He says "Oy'm snuggally sawfft," in a Popeye/Teamster type accent. My god, what's happened to me? I'm comparing a band to the Snuggle Porcupine! But the Tractenburgs are that precious. The songs are rambling loose ditties about trips to Japan, drunk aunts, politics, and eggs. Go to www.slideshowplayers.com for info, photos, interviews, and to order their CD, and see below for upcoming shows throughout October. They want to be on Conan or Letterman by the end of the year—do any of you know anyone there?
You missed the best Girlbomb Salon (aka A Beautiful Scene) ever! See, if I was your mom, you would have known to go. September's Beautiful Scene featured poetry peeps Angels with Attitudes, comedienne (I've always wanted to say that) Kristen Schaal, tall sexy music guy Andrew Katz, and art star Face Boy, who read a touching poem by his deceased dog. Angels with Attitudes showered the audience with glitter and bitter, bitter poetry, gyrating little strummer boy Andrew Katz sent the ladies (and men) into a lust-filled frenzy, and Kristen Schaal read some outrageous poems and then was forced to do stand-up by an alien. Every time I see Kristen I think to myself, "this girl is a fucking genius." Then I say it out loud to whoever will listen to me. But the night belonged to Face Boy, who not only read some really moving poetry and told a great story, but took off his pants and whipped himself with his belt. It was like a live-action Lash of the Penetentes! The lovely Mistress Kat joined in while FB turned the other cheek. You want both sides to be equally red. You can get more girlbomb hardcore action at girlbomb.com
<![if !supportEmptyParas]> <![endif]>
September also saw the historic and hysteric return of two favorites: the Rape and Cry roof party, and the Bunny Brains 88. This party featured not one but TWO charming accordion players—the lovely and hypnotic Cassis of B-Blush, who plays in a sexy Gypsy style, and the bizarre and entrancing Corn Mo. Cassis plays a smaller accordion, which suits her terse, rhythmic style. Corn Mo plays this jagunda monster of a thing with like 120 buttons and a two octave keyboard, which goes along with his big, sweaty, angsty songs. They were both fabulous. Corn Mo reminded me of a sort of cross between an indie rocker and Brak from the Space Ghost show. Corn Mo's playing in October at Galapagos (see below), or you can look him up at cornmo.8k.com My "son" Poisson also appeared, performing his highly energetic rap-core. I was running around so much it was difficult to get a photo of him! He's like some sort of sped-up ultra-dimensional being. He keeps talking about this Convertible Animals CD that he's coming out with—where is it?? I'm waiting! It was fun seeing d'Avril bound around like a Mexican jumping being, but you can't really concentrate on the lyrics with all the energy radiating from this guy. It's blinding!
The Corn Mo web site merits its own paragraph. It's amazing! cornmo.8k.com/cm_index.htm is where you go for oodles of retarded fun. It turns out that you, yes you, can get a phone concert from the corny one. What an amazingly wonderful and stupid idea! Also, there are tons of stories about school and sandwiches and vampires. Lordy lord, it's great. I wish Corn Mo would put out a book/CD combo, like McSweeney's did last year, with songs for each story. And snack suggestions while you read and listen. Corn Mo makes me want to have a fried Fluffernutter with a bag of cheese doodles. Is that wrong? Who are you to judge? If I were your mom, that's what I'd send you to school with, in a Mr. T. lunch bag. I'd also give you an apple, and a little note that says "You're the best! Don't jump in puddles, please! I just did the laundry!"
<![if !supportEmptyParas]> <![endif]>
The loud three-piece trancey-punk-rock jam-band, Bunny Brains 88, was the act that finally incurred the wrath of a neighbor. I'm all for complaining when someone's party is too loud, but the organizers put up signs a month in advance to check with the neighbors, and the music wasn't going to continue past 11 pm. And it was a Saturday! There was more noise from the drunks outside the bodega than from the party. The crazed neighbor claimed that we'd all been harassing him for years, which was odd, as I never met him before. A party participant offered a suggestion as to what was happening—the guy was huffing too much glue. I say not enough glue, as he seemed unglued. The Bunny Brains 88 set was almost over anyway. The neighbor threatened to call the police, and he may have, since a few minutes later I saw a patrol car cruise by slowly. But they didn't stop! Maybe they couldn't hear the music.
The Liquid Tapedeck/Fast Forward Flood (thetapedeck.com) were due to perform that evening also, but the bands ran late and Math Jokes didn't show. I would have pitched a fit if I hadn't known that they were playing a set a few days later at Arlene Grocery. They were an actual three-piece at Arlene, with Peter Etc on guitar, vocals, and keys, Math Jokes on drums and vocals, and long-missing member Jeep Sweden on keyboard and bass. The addition of the delectable Mikey McCue as stage body-guard completed the act, which I guess made them a four-piece and not a three-piece. And four pieces they were. Masked Jeep wore a white jacket, shortened in the back so we could see his black-bikini-encased bottom, Math wore a jacket that looked like a cross between a 1960s woman's raincoat and a lab smock, but he soon stripped down to white vertically striped tights, which matched his white patent leather maryjanes. Peter Etc was dressed in some form-fitting lycra and loud shirt, messy hair covering his face, and the scrumptious Mikey wore fatigues and the tiniest bikini top. The show was even more disastrous than usual, but a definite highlight was the opening number, "Black Sabbath, The Musical (featuring orchestralism)," an audience participation song where we all had to jingle our house keys. Later, during "Death is the Answer," Jeep threatened to kill himself by ODing on heroin, which someone was kind or cruel enough to toss up to the stage.  Because the previous act ran late, some Irish dude who couldn't get people to clap in time with the music (the Irish really have no rhythm), and punk rock karaoke was due to begin at 10, the 'Deck's set was cut short. I cried like a baby. Sadly, I could not stay for punk rock karaoke, even though reading American Hardcore had definitely put me in the mood to do some DK or Fear songs.
And finally, the end of September was the happy birthday of my real-life son, Henrey Lee Lucat. Yes, I have offspring that are
feline.That happens sometimes. Hank spent the day dreaming about playing roulette at the Luxor and catching both the Ozzy and Penn and Teller shows, and then hanging out with them later at some strip club where all the dancers would bend over and lovingly stroke Hank's black-and-white head. He had a dream, he had an awesome dream! Mungo will celebrate his birthday at the end of October. It's a damn good thing I have an IUD now. No more kittens! For news on my girl cat, Poly, visit her livejournal site at livejournal.com/users/polycat
Upcoming:
Tues 10.01: M. David Hornbuckle at Sidewalk Café, E 6th st at Ave. A
Thur 10.03: Trachtenburg Family Slideshow Players, full show, at ARS Nova, 511 W 54 st, 10 pm
Fri 10.04 : Rev Jen Jr. benefit at Space, 602 E. 16 st, 2nd fl, 10 PM, $10. Help pay a little dog's vet bills! All extra funds go to the Humane Society.
Mons 10.07-10.28: Dweller at Space, 602 E. 16 st, 2nd fl
Tues 10.08: Trachtenburg Family Slideshow Players host Automatic Vaudeville at ARS Nova, 511 W 54 St, 8 pm
Wed 10.09: Girlbomb at Stand Up NY $10 + 2 drink minimum
Thur 10.10: Trachtenburg Family Slideshow Players, full show, at ARS Nova, 511 W 54 St, 10 pm
Every Thur 10.10-10.31 Porno Jim featuring Bex at Chashama, 125 West 42nd St. (between 6th Ave. & Broadway) 9 pm, $10
Fri 10.11 Trachtenburg Family Slideshow Players at Mercury Lounge
Sat 10.12: A Beautiful Scene with Seth Q., Eric Kirchberger, and Rev. Jen Miller. Hosted by Girlbomb with musical director M. David Hornbuckle at Surf Reality, 10 pm, $8
Tues. 10.15: Corn Mo at Galapagos
Fri 10.18: Don Eng, A Chinaman in New York at Collective:Unconscious (145 Ludlow St) Lunacy, love, and fortune cookies, 8 PM, $5.
Mon 10.21: THE BIG QUIZ THING (presented by Noah Tarnow and Gretchen Brennison) A live quiz show that gives you the chance to win $300; at The Slipper Room (Orchard and Stanton Sts.), 8 pm
<![if !supportEmptyParas]> <![endif]>
<![if !supportEmptyParas]> <![endif]>
melpomene whitehead babysits the snevil (www.snevil.com). email her at mel@snevil.com