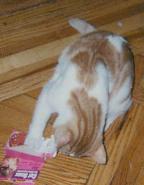 double shredder.
Sometimes my mom goes up to PathMark, which is way up on 207 St. But she goes there for me, because they have a new cat food that the close-by supermarkets don't carry. Would you like to know what it is? It's Friskies Shredded! And this time the exclamation point is mine! I love it!

Regular visitors to this site may be aware of the problem I've been having with 9Lives Shredded! (exclamation is theirs, not mine). Basically, it used to be good, and now it sucks. And I'm not the only one who feels this way. Even the immovable beast himself, Mervin Tiberius Thing refuses Shredded! But I really like the texture. The situation was quite distressing to me, and to other cats. My mother has gotten into conversations with strangers in the cat food aisle over this issue! And she hates to talk to strangers! So, then my grandmother brought by this new Friskies Shredded, and it is fabulous. And such good flavors! Turkey and cheese is my favorite. It's like a little turkey club in a can. Yes, it's more expensive, but I'm worth it, damn it!
Friskies Web
Topini Hunt.
As always, we are still seeking a store that carries Topini and charges reasonable prices. For those on the fringes of society, Topini is a catsnak made by Gimpet. It is shaped like little mousies, and the three main ingredients are meat, milk and sugar! yum! It's cruchy, sort of like a cake decoration... that gives me an idea... imagine a tuna birthday cake with cream cheese icing, decorated with topini mice? Wow! Anyway, I digress... while shopping for Horace, my new friend on the Upper West Side, my mom found a store oddly enough at 209 W 96th street called Pet Shed. It's upstairs from Planet Shed! I think I want to move in! So, they had Topini. She bought them out, and also purchased another Gimpet product, dried beef liver. I love it! I love Gimpet, even if they are a German company, and everyone knows that if it wasn't for Germany, the tragic killings at Columbine High School would have never occurred. Check out my German! Mungo ist ein Apfelsine und weiss Vielfrass. Heinrich ist ein schwarzweiss Strassendirne. Ich bin ein Wiesel! Auf Wiedersehen!